Testing at Hanford's Miniature Waste Treatment Plant is Successful
Posted:
Updated: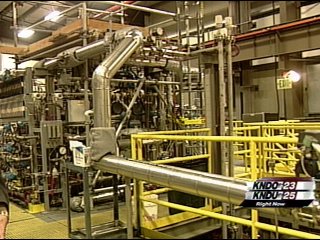 RICHLAND, Wash- The D.O.E. and many contractors built a miniature waste treatment plant in Richland. Recently, engineers finished testing many processes that will be used at the Vitrification Plant at Hanford.

The miniature plant will give you a good idea of how complex and expensive the actual waste treatment plant at Hanford will be and it's the first of its kind in America.

"This facility has verified and validated that some of the key processes that we're going to need out at the Vit Plant will in fact work and make sure that we can make high level waste and low level waste on schedule and at a reasonable cost," said Bill Gay, WTP Assistant Director.

The plant is about the size of a basketball court and costs $90 million. The thousands of valves and parts were built in New Mexico, then shipped and assembled in Richland.
The importance of having a smaller version of the Vit Plant is so engineers can detect and avoid problems that would have occurred if they had not done extensive testing.

"Phase one" testing finished successfully. They used non-toxic waste similar to what will be going through the Vit Plant. One technical issue they are working on is pipes inside the tanks that have no functioning parts.


"It's a lot better to resolve the technical issues during testing than it is to go back and modify the Vit Plant after it's been put into service," said Don Bachand, WTP Operations Manager.


Contractors who have been working on this plant include Bechtel, PNNL, and the Office of River Protection within the D.O.E.
"I think we're all excited that we're almost done resolving the engineering issues and we're going to finish construction and get into operation and that's what's energizing all of us," said Gay.