Annual CSEPP Drill Tuesday Night at the Umatilla Chemical Depot
Posted:
Updated: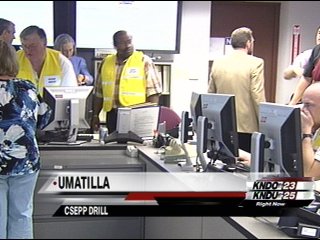 UMATILLA, Ore.-- The Umatilla Chemical Depot had its annual Chemical Stockpile Emergency Preparedness Program, or CSEPP, Tuesday night.
Every year they simulate a chemical accident on the Depot site to see how workers respond. At the beginning of the exercise, the room was quiet. Then once the staged accident happened, everyone jumped into action.
Greg Mahall, the Public Affairs Officer for the U.S. Army Chemical Materials Agency, explained the exercise. He says, "Inside the Depot today, we are simulating an accident involving 3 1-ton containers of mustard agent. There were injuries, leakage, fire, smoke." The on-site accident was called in through a radio and emergency personnel had to act quickly.
The CSEPP Drill isn't only for Depot workers, surrounding counties also have to react to both the on-site emergency, as well as other scenarios that may happen. CSEPP Specialist Cheryl Seigal, says, "Responders will also have the opportunity to go to a 2 car accident that will involve a farm chemical and a pickup truck. There will be a simulated train accident in Prosser." Fire crews, police officers, Red Cross, hospital workers, and more also participated in the drill.

If there ever were a real accident at the Umatilla Chemical Depot, it could potentially effect Morrow, Umatilla, and Benton counties. This could be the last drill in our area because only one chemical agent, mustard agent, is left on the site and it could be disposed of within the next year.