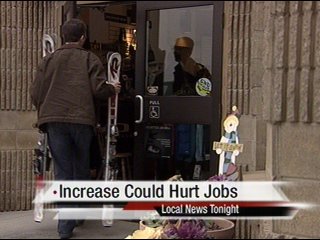 As legislators wrestle with the state budget shortfall, the Regional Chamber of Commerce and the Washington Policy Center want lawmakers to recognize the effects a possible tax hike could have on local businesses, and jobs that could be lost.
According to a recent study by Washington Research Council, increasing the state Business and Occupation tax (B&O) by $1 billion would eliminate up to 15,072 jobs. A $2.6 billion B&O tax increase would cost 38,968 Washingtonian's their jobs.
"With some of our small businesses, if posed with the sales tax increase or B&O tax increase, it could make it more difficult for them to compete with Oregon business and even Internet business," Colin Hastings, Public Policy Director at the Regional Chamber of Commerce said.
Other tax boosts on cigarettes or candy could come into play also, but Hastings says those taxes won't have as much of an impact. It's the possible multi-billion dollar B&O, or sales tax that could bring down local workers.