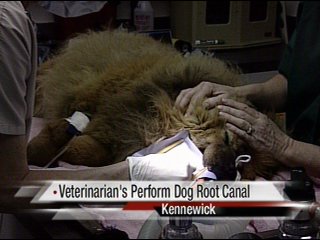 KENNEWICK, Wash;-- Veterinarians at the Vista Veterinary Hospital in Kennewick performed a root canal on an 8-year-old dog early this morning.
It was a sight most people have probably never seen or heard of, a large dog laying on a hospital table unconscious, with one tooth wrapped with gauss becoming the focus for doctors.
The veterinaries we talked with say it's time to make the option of giving your pup a root canal a reality. The closest animal dentist to perform them works in Seattle, but doctors at this hospital say, that could soon change.
"Dogs can get by without any teeth," Veterinarian and part owner of the Vista Veterinary Hospital said. "There's no question about that, but the teeth are there for a reason. They help support the bone structure, they help the dog to play with toys, and they help the dog to eat. They don't need them to survive but if it was us we were talking about, we'd want to keep that tooth."
Veterinarians say if they were to pull the teeth instead, the dog's tongue would hang out of its mouth. The aesthetically goofy look is why people are becoming more interested in the root canal procedure.