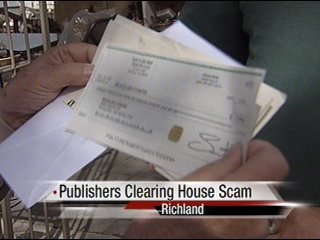 A popular scam has resurface and is now hitting residents in the Tri-Cities.
It's a Publishers Clearing House scam, and the idea is to send you a fake check with the promise for one million dollars later. Before you try and cash it the scam artist says you must send them thousands of dollars as insurance money for the lump sum you are supposed to receive later.
Beaulah Cosins says it was exciting to open up the letter, but she quickly realized something seemed off.
"We send in requests to the Clearing House all the time, so you might think it was good looking at this, but for them to send a little check along with it indicates that it's not," Cosins said.
Cosins says she went to the bank and they told her people have had similar problems before, but workers say to always ask your bank about these types of checks so you don't get caught up in the scam.
There was also no return address on the envelope and it was sent with a Canadian stamp.