Rafaela Hernandez: A campesina's (farm worker's) story
Posted:
Updated: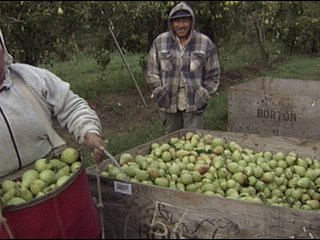 YAKIMA, Wash--Just before 5 in the morning 39-year-old Rafaela Hernandez gets a ride to work. Like many campesinas, farm workers, she's in the fields by 5:30. This week she's picking pears. She heads home around noon.
Sometimes the schedule changes or there's no work at all depending on the crops, but for the most part, from June until November, this is her life seven days a week. She says its pesado, duro, hard and heavy, work. But as she sees it, it could be worse.
"Here at least we have work, food, en Mexico there isn't any", said Hernandez.
10 years ago Hernandez came to Yakima from Cuernavaca Morelos, Mexico. She and her oldest children walked for three days to reach the border. At the time she had a brother who lived in Yakima and told her there would be opportunities for her to work and educate her children. She herself has never gone to school.
"School for them at least. Having my kids go to school is the most important to me."
Hernandez lives with her six children and three grandchildren in a trailer in Toppenish. It's about 800 square feet for the 10 of them.
During the summer she waits for a call telling her si hay trabajo, if there's work. When she does have work, her $575 rent eats up about half of her paycheck. During the rest of the year when there are no crops to pick, she relies on public assistance to house her family...but not because she wants to. Hernandez says she would like to work all year, but because of her children, she doesn't have the option of moving from city to city following crop harvests.
She does occasionally take the oldest ones to go picking with her. She hopes a taste of a farm worker's life will keep them focused on school.
"I like to help her sometimes because I feel she's tired from the bags", said her twelve-year-old daughter Yennifer Hernandez.
Rafaela said sometimes when things get really tough she thinks about returning to Mexico. Her brother has left Yakima and she has no family here besides her children. But she knows that moving back would limit opportunities for the kids…not an option as far as she's concerned.
"Everything I do is for my children and so I tell them to enjoy because we suffered a lot to come."