Hazardous materials removed from burial ground in Hanford
Posted:
Updated: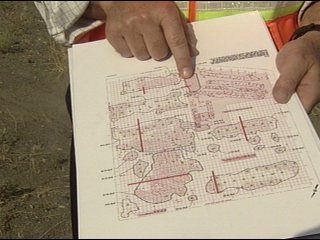 RICHLAND, Wash.— Workers are making their first entry into one of the U.S. Department of Energy's most hazardous waste burial grounds containing radioactive and hazardous materials at the Hanford Site in southeastern Washington state.
The work will help identify what is buried at the site, known as the 618-10 Burial Ground, located near the Columbia River and a few miles north of Richland.
So far, workers have dug up several drums containing radioactive materials, such as depleted uranium chips in oil, a cask with unknown contents and other miscellaneous debris. The depleted uranium chips are typically covered with oil because they can spontaneously ignite if exposed to oxygen. And, that's just the beginning of some of the high-risk and hazardous materials that may be buried underground.
"This is one of the most challenging cleanup projects at the Hanford Site, because the records don't tell us exactly what's buried here, but the information we do have indicates we'll encounter some of the most hazardous waste on the site," said Mark French, the Department of Energy's Federal Project Director for the River Corridor Closure Project.
Workers are digging a series of test pits within the six-acre burial ground to help identify some of the contents, which is where the drums, cask and other debris were found.
"We want to know more about what could be there before we finalize cleanup plans for the site," said Washington Closure Hanford's John Darby, who is the project manager for the work. Washington Closure manages the $2.4 billion River Corridor Closure Project for DOE.
The burial ground contains low-level waste and some highly radioactive waste from Hanford's reactor fuel development and manufacturing facilities. The wastes were buried in 12 trenches and 94 vertical pipe units from March 1954 through September 1963. The vertical pipe units are five, 55-gallon drums welded end-to-end and buried vertically in the soil, into which radioactive wastes were disposed.
Available records indicate the buried wastes include radiologically contaminated laboratory instruments, bottles, boxes, filters, aluminum cuttings, metallurgical samples, electrical equipment, lighting fixtures, barrels, laboratory equipment and hoods, and high-dose-rate wastes in shielded (or concreted) drums.
During the current intrusive characterization stage, workers expect to unearth up to 20 drums of waste, which will help them determine the types and quantities of materials buried in the burial ground.
Earlier this week, workers found several "concreted" 55-gallon drums. The burial ground may contain up to 800 concreted drums, inside of which the workers expect to find highly radioactive liquid waste, nested inside a pipe surrounded by concrete. The pipe provides containment for the liquid and the concrete provides radiation shielding for its contents.
Based on the discovery of the first drum and other evidence, Darby said they have revised their estimate of the number of drums they might find from 700 to 2,000 – containing uranium shavings, uranium oxide and other highly radioactive materials.
For a lot of the material, disposal will not be as simple as hauling it for burial in Hanford's central cleanup landfill, the Environmental Restoration Disposal Facility.
"Solid waste will be disposed at ERDF," Darby said. "Drums containing oil and depleted uranium chips will be shipped to an offsite treatment facility, where the oil, which may contain heavy metals and PCBs, will be drained and incinerated. The shavings will be stabilized and sent back to us for disposal at ERDF."
The burial ground is one of 396 waste sites that Washington Closure is cleaning up in a 220-square-mile area of the Hanford Site next to the Columbia River, an area known as the River Corridor.
"Each of the burial grounds we've cleaned up has been successively more challenging," said Darby. "And, with each one, we've learned new ways to keep workers safe and protect the environment, primarily by handling and disposing of only small quantities of material at a time and by using machines to keep people away from the waste whenever possible."
In fact, this isn't the first time the team has dealt with depleted uranium. The nearby 618-4 Burial Ground contained 778 drums of depleted uranium and uranium oxide.
"However, the concreted drums present a new challenge," said Darby. "Once we complete the test pits, we'll meet with DOE and Hanford Site regulators to determine the safest and most efficient way to clean up the burial ground, including how to safely dispose of the high-dose-rate waste in the concreted drums."
Barring any unanticipated finds during the intrusive characterization stage, full-scale cleanup is scheduled to start in April 2011. Characterization and the subsequent remediation of the trenches at 618-10 is funded by the American Recovery and Reinvestment Act at $66 million.
Cleanup of the burial ground must be completed by September 30, 2018, to meet a Tri-Party Agreement milestone.
Washington Closure Hanford is a limited liability company owned by URS, Bechtel and CH2M Hill. It operates the $2.4 billion River Corridor Closure Project for DOE and is responsible for cleaning up 396 waste sites, demolishing 486 buildings, placing two reactors and one nuclear facility in interim safe storage and managing ERDF.