Hazardous Building Torn Down at Hanford
Posted:
Updated: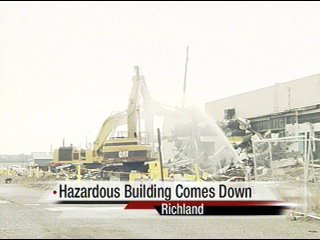 Near RICHLAND, Wash. -- One of the most hazardous buildings on the Hanford site is under demolition. Workers say this project will not only improve the appearance of the area, but also eliminate a dangerous source of pollution.
It took three years to prepare the building for demolition, but in a month, all that will be left is rubble.
The 327 building is one of the most contaminated structures on the Hanford site, according to Department of Energy.
Area three Superintendent, Bill Wahler says the type of work done inside this building is why it took so long to tear it down, "The research they did here was very hazardous, had very high levels of radioactive material and had a lot of contamination over the years, we've been able to decrease that."
Since 1953, the structure contained ten hot cells, or large boxes made of lead and concrete where research was conducted. The first of those ten cells was removed last year. the department of energy says the job making this structure safe was no easy task.

"Fixing the contamination in place inside the facility so it was safe was a massive undertaking and so Washington Closure has done a great job of cleaning at the facility," says Cameron Hardy of the Department of Energy.
Hardy also adds the demolition of the 327 building will benefit the area,"It's a tremendous time to see the skyline change. I think pretty soon you'll be able to take a trip up the Columbia River and pass the 300 area and not see buildings anymore. In the coming months, we're going to see more buildings come down."
The demolition of buildings in the 300 area of the site has been underway since 2004, and the next scheduled demolition will take place in October.