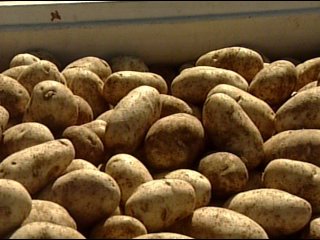 PASCO, Wash.-- The executive director of The Washington State Potato Commission is on a 60 day mission to prove potatoes are more than just starches and carbohydrates but are filled with nutrients as well.
Chris Voight is eating nothing but potatoes for two months, not even indulging in toppings like sour cream, butter or gravy, just using herbs and spices. He says, "for 60 days our dietician said, you're really not going to have any problem. Her only concern was the fat content because there is no fat in a potato. So one of the parameters of the diet is that I'll be able to eat the potatoes with seasonings and herbs but we have to add oils for cooking for the fat content."
It turns out one potato has about 110 calories, and more potassium than a banana, 345% of your daily intake. It also has 252% of your daily fiber needs, and 942% of Vitamin C and it's loaded with protein. Voight says the nutrients are not just in the skin,but that is where majority of the fiber is.
Washington is the second biggest potato growing state in the country and nine out ten potatoes grown here are exported.
It is a $3.5 billion dollar industry for the state.
To follow Chris Voight's diet blog click here.