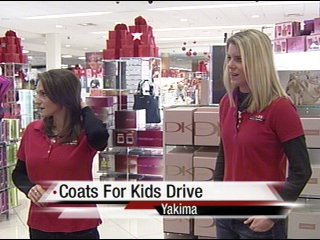 KENNEWICK, Wash. -- 183 local families registered for Toys For Tots at the DSHS Building in Kennewick Saturday afternoon. This year, the organizers are asking for a tax return for proof of income because they are down in donations and people have abused the system in the past. Anyone making more than $30,000 does not qualify. Toys will be handed out to kids 10 and younger at the Benton and Franklin County Fairgrounds December 11 at 11:00am. Registration is happening at DSHS on 1120 N. Edison Street Sunday, November 21 between 10:00am and 4:30pm as well. Families can also register there at the same time on December 4 and 5.
The local coordinator for the program, Bill Stott says they need people to get online and help out this year. 1,203 kids need toys. Our donations are way down. And toys are way down, donations and toys. I've been checking the boxes and they just don't have the amount of toys I was getting last year or the year before. They're just not there," says Stott.
One mother from Finley, Kathryn Sackett, came to register for her eight year old daughter Mara. "I just had a fire in my house twice two months ago and it's just my run of bad luck, so I really needed the help this year," says Sackett.
If you are interested in donating to Toys For Tots or for a list of donation bins click here.