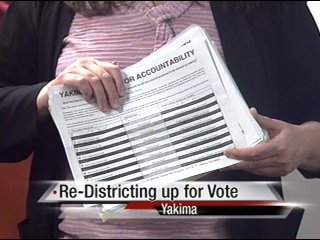 YAKIMA, Wash- Yakima is one step closer to changing the way it's leaders are elected. As of Friday, over 500 signatures had been certified by the county auditor's office. Now the initiative is eligible to be on a ballot. If passed, Yakima would be divided into seven districts and city council members would have to live in the district they serve.
Voters would only be able to vote for their district's representative. For the last few weeks, volunteers with Central Washington Progress have been scrambling to gather enough signatures to put the issue up for vote in February. However, the council was uninterested in allowing the issue to be decided during the special election, so it will likely be on the August or November ballot. Supporters of the initiative do see a silver lining in having a later vote.
"Maybe this will give us a little but more time to see why this would beneficial to people in Yakima. And certainly to the voters to get some more info and be well prepared when it comes to time to vote about it", says Sister Mary Ellen Robinson of Central Washington Progress.
Robinson says they plan to use the extra time to familiarize the public with the issue. If their initiative passes, all seven city council seats would be up for election under the goal is for that vote to happen in November.