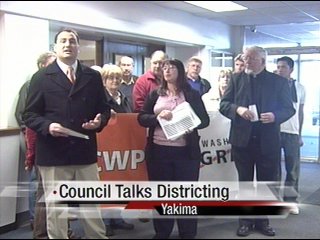 YAKIMA, Wash- The Yakima City Council held it's first business meeting of the year Tuesday evening. One of the most high profile issues they discussed was when the re-districting initiative would be up for vote. They had the option of putting the issue on an April special election ballot, or let it be voted on in the August primary election.
The civil rights group in favor of the redistricting wants the April date because if the measure passes, the redistricting would take place in time for the November general election... and all of the city council seats would be up for election.
However the council members who want to let it pass to the primary, said it's not worth having a special election for the issue.
"There's the cost factor with special election, and were being told that it's $50,000 for the February election that were gonna have."
Last month volunteers with Central Washington Progress turned in over 500 signatures to get the issue on a ballot. If passed, it would break the city into seven different voting districts and each candidate for city council would have to live in the district they represent. Voters could only vote for their district's council member.
The city council decided to table the discussion on setting a date. If they don't take any action, the date for the vote will automatically be the August primary.