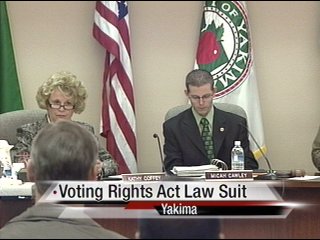 YAKIMA, Wash- The battle to change how Yakima elects it's city council members council continues.
Tony Sandoval first sued Yakima back in February when the city council refused to put a districting-only ballot initiative on last February's special election ballot. That suit focuses on violations of the city charter.
But now Sandoval's attorney says he has amended the lawsuit to focus on the big picture: violations of the voting rights act...a federal issue.
Sandoval and his Tim Schoenrock say that the way voters currently elect city council members blocks the votes of Hispanics. He says that although the city has roughly the same amount of Hispanics and whites, the way the city is districted allows whites to dilute the Hispanic vote.
"The white population votes at a larger percentage than Latinos thereby over ruling every time the Latino group disagrees with the white vote", says Schoenrock.
If the lawsuit is successful the city would be required to break Yakima into seven equal voting districts. Residents would only have a say in who their district's city council person would be.
This issue is also on the august primary ballot, but even if it passes in August the changes would not take effect until 2013. The goal of the lawsuit is to have the changes take effect immediately.