Community forum offers historical perspective on immigration
Posted:
Updated: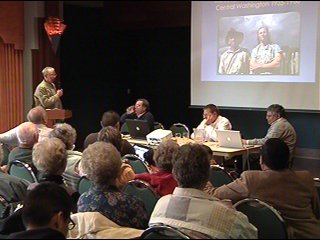 YAKIMA, Wash. – Professors from local universities along with experts from across the country came together Saturday at the Yakima Valley Museum for a forum on immigration that provided a historical perspective to the popular topic.
"It's important to know the past because you can learn from it," said Anita May, a consultant for the event.
The forum was organized by the Society for Applied Anthropology and made possible through a grant from Humanities Washington.
David Griffith and Ricardo Contreras of East Carolina University discussed the assimilation of immigrants into a community and provided each side's perspective. Local professors Greg Hinze of Heritage University and Gilberto Garcia of Central Washington University offered unique examples of the topic as well. Hinze talked about Americans moving from one part of the country to another and feeling as if they were immigrants. Garcia discussed some of the experiences that came out of Othello in the Lower Valley.
Organizers specifically avoided anyone outside the academic world as they believe the current conversation on immigration is dominated by an emotional opinion and not one based on research. Similar events were held in Wenatchee and Bellingham as well.
An overlying theme from the event was that the challenges the country faces right now on immigration have come up on multiple occasions in U.S. history.
"You can learn from [the past] by doing something different or you can learn from it by doing something the same," said May.