Theoret: "It's a miracle we even made it into the finals"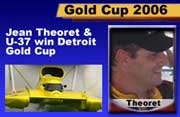 DETROIT, Mich - It was an unlikely finish to the weekend in Detroit. But then, it's been an unusual season for Jean Theoret.
Theoret is one of the sport's most succesful drivers - having won in every class he's ever raced - but this year, he's been bit by tough luck. In four separate races this year, he's hit buoys - each time will get you a one-lap penalty and put you out of conetntion for winning a heat race.
It happened twice in Detroit as Theoret was penalized two out of three races he ran. And the point totals necessary to get into the finals at all seemed just out of reach. There was one last chance, Heat 4-B. But to make the finals, Theoret had to go out and win the Heat - something he hadn't done all year. His closest was a 2nd place finish in Heat 1-B in Efvansville.
But he did it. Theoret won Heat 4-B and got a front row position in the Gold Cup finals. "It was a miracle we made it to the final," said Theoret.

There was even drama in the finals. The cowling flew off. "I saw in the rearview mirror the rear wing was gone," Theoret said. "It didn't affect the way the boat was handling. I said, 'We got to go.'"
"We have been hurt so much in the three heats before I guess the confidence goes away. And when the confidence goes away, you don't drive so well," Theoret said. "When your confidence comes back, I think you also gain boat speed. You're handling the boat better and you're not making mistakes, and that's what happens."
Jimmy King took second place in the U-3 Miss Chrysler Jeep.
"As disappointed as I am, hats off to those guys. Jumping the gun, running over buoys, all types of stuff going wrong. They put it together when it counts," King said.
"They (the crew) gave me a helluva boat," Theoret said. He led start to finish, grabbing the inside lane one right in the warm-ups and held it throughout.

"Man, did he win this final," U-6 driver Steve David said about Theoret. "What a fight out there," said Nate Brown, driver of the backup U-1 boat. "(Theoret) is a great Gold Cup champion," said U-2.25 drive Ken Muscatel. "It's really, really rough... he ran a great race."