What is Vitrification?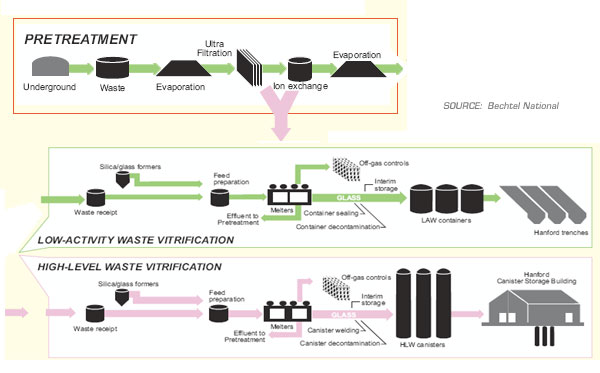 In short, Vitrification is the process of turning radioactive waste into glass. In a hardened state, the radioactive material is encased, preventing it from leaking.
Bechtel National, Inc., at the direction of the Department of Energy, is building one of the world's most complex treatment plants. When completed, it will take the waste at the Hanford Nuclear site, primarily stored in underground tanks, and combine it with molten glass. The glass is then sealed in steel containers. The waste should remain stable as the radioactivity dissipates.
The process of dissipation can takes hundreds of years. Currently, much of the waste at Hanford is in liquid form. The storage sites are close to the Columbia River and, as the tanks corrode and erode over time, are susceptible to leaking into the groundwater and into the Columbia.
There are some 53 million gallons of waste stored in 177 tanks on site. More than a million gallons of radioactive waste have leaked into the groundwater over the years.

GRAPHICS SOURCE: Bechtel National