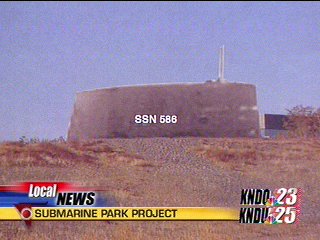 RICHLAND, Wash.- Part of a historic nuclear submarine is coming to a new park in Richland.
The Port of Benton plans on building a new park at the end of Port of Benton Boulevard in north Richland, and the historic sail from the U.S.S. Triton is going to be their centerpiece.
The nuclear sub was the first to ever circle the world under water.
Right now it's dry docked in Bremerton, but the Navy has agreed to lease the top fin, or sail, to the Port to be the centerpiece of a new park.
The 67 ton sail is about 70 feet long, 24 feet tall and 12 feet wide.
"What we would do is cut it up in about four to five pieces, truck it over here, put it in place, weld it back together in place, and put it in a memorial, eventually a park and we're looking at doing educational pieces with it," said Marv Kinney with the Port.
The first phase of the project is expected to cost about $100,000.
The Port says the piece of the submarine should be here sometime next fall and they're hoping to start building the park after that.