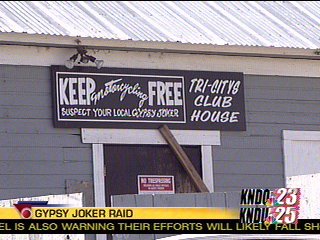 KENNEWICK, Wash. - Wednesday morning law enforcement from all over the region executed a search warrant at the Gypsy Joker Compound near South Gum Street and 19th in Kennewick.
Undersheriff Paul Hart said four people were arrested for possession of meth. 58-year-old Ron Campbell, 52-year-old Andrea Reeder, 53-year-old Dylan Grose, and 39-year-old William Casteel were all taken to Benton County jail.
SWAT members from Benton and Yakima Counties surrounded the compound around 5 o'clock Wednesday morning. Hart said there were 55 officers on scene.
Police used a special explosive device that made a loud boom sound. Hart said they used the device to distract the people that were inside the home.
Nearby neighbors said they heard a lot of commotion early this morning. Police surrounded the house with their guns drawn. Neighbors said they also saw police in a large tank.
Police said that Ron Campbell is the president of the local Gypsy Joker Chapter. The notorious motorcycle gang is known around the world. They have chapters throughout the country. Police have compared them to the Hell's Angels.
Along with drugs police said they also discovered stolen property and weapons.
A woman from inside the compound said no one was available to comment and said that she felt that their privacy was being invaded.
The woman was obviously upset that KNDU was near her home.