Once home to hydroplane racing, Coeur d'Alene, Idaho now home to hydroplane memorial
Posted:
Updated: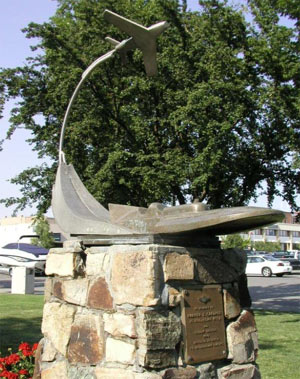 For 9 out of 10 years from 1958 to 1968, hydroplane racing was an annual event at Coeur d'Alene, Idaho about 40 miles east of Spokane, Washington. More than 100,000 took over the small town to watch the first races in 1958 when 14 boats raced.
Today, all that's left is a memorial to drivers that have died in the sport.
Near the boat docks in the shadow of the Couer d'Alene resort, there's a cubed stone platform. On top of the pedestal is a metal hydroplane boat. The stylized rooster tail behind the boat swoops upward and forms the base for a jet fighter plan.
The plaque states: "In Memory of Warner E. Gardner, Lt. Col. U.S.A.F. (Ret.) and Fellow Drivers Who Devoted So Much To Hydroplane Racing."

Map to Memorial >>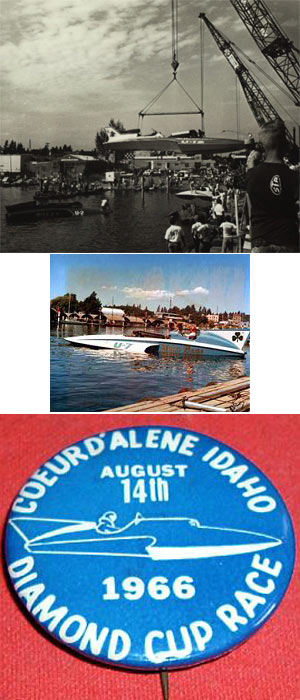 Despite its location, Gardner actually died in a hydroplane accident in Detroit at the 1968 Gold Cup driving the Miss Eagle Electric.

Warner Gardner Remembered >>
The year Gardner died was the final year of racing at Coeur d'Alene. Billy Shumacher won the final race there in Miss Bardahl. Schumacher would go on to win the National Championship in 1968.

Photo: 1968 Bardahl >>
There have been several attempts to bring hydroplane racing back to northern Idaho. Each time, old timers reminded residents about some of the crowds that got out of control at the races.
While it's been reported that hydroplane racing has been permanently banned because of crowd activity, the truth is racing stopped because event organizers had trouble pulling together the volunteer base they needed to put on the races. The races were cancelled in 1967 for that reason. After a final race in 1968, they were ended for good.

1958 Diamond Cup >>
Gardner -,memorialized at Coeur d'Alene - was one of 15 fatalities in the sport, including three in one afternoon in 1966 in the day dubbed "Black Sunday."

SEATTLE PI: Black Sunday >>
Hydroplane racing fatalities
1951

Orth Mathiot - Seattle, WA

Thom Whittaker - Seattle, WA
1961

Bob Hayward - Detroit, MI
1966

Ron Musson - Washington, D.C.

Don Wilson - Washington D.C.

Rex Manchester - Washington D.C.

Chuck Thompson - Detroit , MI
1967

Bill Brow - Tampa, FL
1968

Warner Gardner - Detroit, MI
1970

Tommy Fults - San Diego, CA
1974

Skip Walther - Miami, FL
1977

Jerry Bangs - Seattle, WA
1981

Bill Muncey - Acapulco, Mexico
1982

Dean Chenoweth - Kennewick, WA
2000

George Stratton - San Diego, CA