New Contractor Taking over in Tank Farms
Posted:
Updated: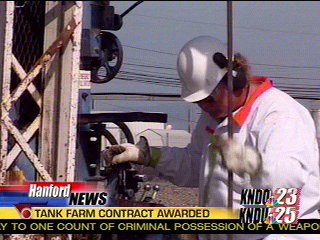 RICHLAND, Wash.- The Department of Energy's Hanford site's long awaited $7.1 billion tank farm cleanup contract goes to a new contractor, Washington River Protection Solutions.
CH2M Hill Hanford Group will begin to transition out in July 2008.
It's big sigh of relief for a lot of those workers. A rep with WRPS, the new consortium who'll take over the contract, tells KNDU the company plans on only replacing top management.
They'll keep the other employees to ease the transition.
WRPS is made up of a couple of contractors who're already prominent on the site; Washington Group International and EnergySolutions.
Company reps say the transition should be smooth and hope to get to work right away.
"The three teams combined really bring the combination of global personnel and global access to technology that can really be used in the cleanup work here at Hanford so I think that'll be a tremendous benefit," said Penny Phelps with WRPS.
The new contract covers cleanup of Hanford's 177-underground waste storage tanks.
The tanks store nearly 53-million gallons of highly radioactive waste that's being emptied out and eventually vitrified at the Waste Treatment Plant.
Contracts for mission support and central plateau cleanup, currently held by Flour Hanford, are expected to be awarded any day.