Hand Signal Pays Respect to Soldiers in Uniform
Posted:
Updated: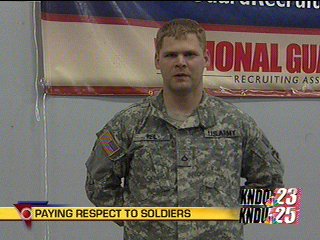 SEATTLE, Wash-- A Seattle man started a trend that pays respect to soldiers in uniform when they are in public places like airports. Since launching a website in September he's received millions of web hits.

The trend is called the Gratitude Campaign and it all starts with a hand signal that you can do anytime you see a soldier in uniform. The signal is a new way to thank soldiers for their service without having to interrupt them or make them feel uncomfortable.
Soldiers in the 81st Heavy Brigade Combat team are preparing to leave for Iraq in August. They will be travelling through commercial airports and are getting familiar with the hand signal.
"It's an easy way to say thank you without having to feel that awkwardness because I know for some guys and some of my friends in the military its sometimes hard to know what to say back," said Donald Nelson, U.S. Army Delta Company.
The founder of the Gratitude Campaign says all you have to do is put your hand on your heart and then move your arm down. He chose the heart rather than the American Sign Language 'thank you' from the chin because he says nothing from the heart can be seen as offensive.

"We switched to the sign that starts at the heart thinking that even if you didn't know what that means anything that comes from the heart is probably a good thing," said Scott Truitt, Founder of Gratitude Campaign.

Since launching a website the Gratitude Campaign has gained national attention, being played on digital billboards in New York City and having eight million video downloads.

"It would be a little bit easier to recognize that then somebody coming up and making you feel awkward when they thank you," said Vincient Reil, U.S. Army Private.

Soldiers from the National Guard in Pasco say they like the hand signal because it is easier than stopping them in the airport and less awkward.

"I think just like everybody else, if I could leave today and get it over with I'd just as soon do that but I'm excited, trying to get my team prepared and trying to get my guys ready," said Thomas Wynecobb, U.S. Army Platoon Leader.

If you walk past a soldier try the hand signal and show him you're thankful he's serving our country.