Summer Interns at PNNL get Hands on Experience
Posted:
Updated: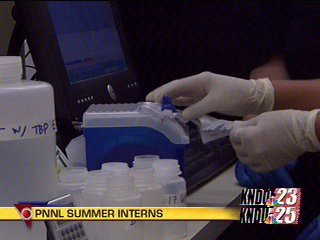 RICHLAND, Wash-- College students from around Washington and across the country get hands-on career experience at PNNL. They're summer interns and they're working very hard.
These internships help train future researchers who could eventually help with the Hanford clean up project. Many of them are going on to graduate school where they will pursue doctorate degrees.

"We just learn so much here. The opportunity to work in a real research lab is something most people don't get until out of college," said Sarah Rither, Technical Intern at PNNL/

These interns are not just copying papers and running coffee, they're doing extensive research on nuclear waste clean-up.

"Basically I work with glass dissolution and it's going to help determine if we can bury nuclear waste in the ground," said Dechauna Skinner, Intern at PNNL.

Interns at PNNL are paid hourly and work five days a week. Most are earning their undergraduate degrees from colleges across the country and even the world. One student is acutally from the North Pole.
"One of the most important things to graduate schools is internships and research experience. It's so much more than the classroom can ever give you. It's hands on and with mentors that adds to your learning experience," said John Nelson, PNNL intern.

Many of the interns come back after college and work as researchers in the PNNL labs. Leaders say the program is a great way for PNNL to train the next wave of scientists.