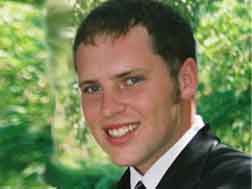 ELLENSBURG--A Central Washington University student is dead after falling through the skylight of a building Thursday.
Alisha Sivey has no idea what her husband, Gary, was doing on the roof of the Kelleher Motor Company. He worked for Cascade-1 in the tech support department.
A first responder to the scene said Sivey may not have seen the skylight and stepped through it. He fell 35 feet to the concrete below.
Gary and Alisha Sivey married on August 20, 2006. They have been together since 2001, when they were both students at Eastmont High School.
Gary will be sorely missed.
"He was a treasure," Alisha said. "He was a perfect guy, he's got hundreds of friends. Everybody's gonna miss him, everybody loved him."
Sivey's also survived by his parents, Gary, Sr. and Kathy, and his older sister Erica.
Alisha Sivey said Gary's an organ donor and will help dozens of people in death. Gary was a junior at CWU studying to be in construction management. He was 24 years old.
The Department of Labor and Industries is investigating the accident.