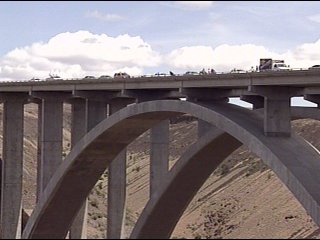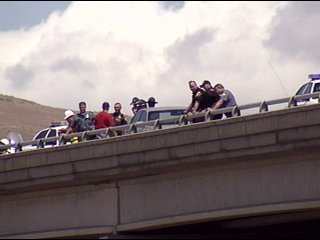 SELAH, Wash-- A Richland Man is dead Thursday after jumping from the Fred Redmon Memorial Bridge. An eye witness watched 41-year-old Marvin McInturf jump, he said without hesitation.
The eye witness was a bit shaken-up as he told us what happened this afternoon. Troopers said the odds of seeing something like this happen are "one in a million."
Shortly after noon a man pulled over on I-82, walked to the edge and jumped. State troopers believe the distance from the bridge to the ground is about 325 feet at the point where the man jumped.
The Fred Redmon Bridge spans Selah Canyon. The terrain is rocky and steep. Onlookers gathered at the rest stop as local law enforcement tried to recover the body.
A delivery truck driver watched the scene unfold and it he said it happened fast.
"Then I saw a guy just come out and he just like, he just like, dived without thinking about it. He just went and just dived like he was diving in the water, he just went straight down," said Francisco Carrasco, eye witness.
McInturf was driving an Impala, but the vehicle was not registered to him. The Yakima Sheriff's Department is investigating.