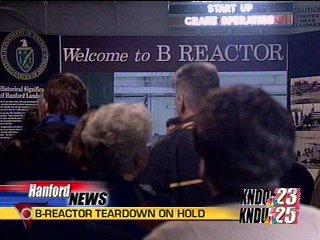 RICHLAND, Wash.- Plans to tear down Hanford's historic B Reactor are on hold.
The Department of Energy now officially stands behind historians' attempts to preserve the reactor as a museum.
The order handed down Wednesday requires DOE maintain the reactor in a "state that preserves it's historical significance."
B Reactor was the world's first full scale nuclear reactor and created the plutonium for the bomb that was dropped on Nagasaki to end World War II.
Because of that, historians want to preserve it as a museum.
This latest development is a step forward in that process.
"Even suppose they recommend a wonderful solution that B Reactor would be preserved, then Congress still needs to act, so we're not really going to see the final answer probably for at least the rest of this year, sometime into 2009," said Michele Gerber, a Hanford site historian.
The National Park Service is studying the possibility of preserving the Reactor as a historical site.
Plans had called for DOE to start tearing down the Reactor as early as next year, with this decision those are on hold.