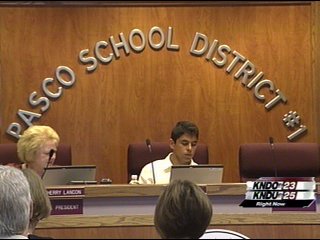 PASCO, Wash.-- It was business as usual at the Pasco school board meeting Tuesday night.
The district's budget wasn't discussed.
KNDU talked to one of the Larry Mayfield, Assistant Superintendent of Business and Operations, about possible cuts. He says the district will have to cut more than $5-million from its $135-million budget.
Mayfield explains the cuts won't be made through lay offs. He says, "We don't anticipate having to lay off any staff. We're working very hard in order to keep the staff that we have. So, we're going to be working through attrition and retirements."
Mayfield also says that some open positions won't be filled and salaries won't increase. There's no word yet on the number of staff members the Pasco School District will lose. Mayfield says that number and a detailed list of where cuts will be made aren't finalized and won't be made public yet.
The school board will continue to make decisions and will adopt a new budget this summer.