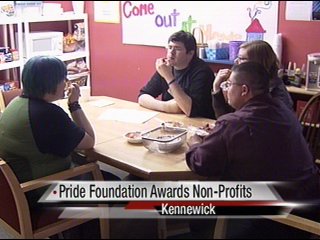 KENNEWICK, Wash. -- The Pride Foundation awards local organizations $10,000 in grant money. Each year the pride foundation gives thousands of dollars to non-profit organizations serving the lesbian, gay, bisexual, transgender communities or LGBT.
This year the foundation awarded $10,000 to three Columbia Basin organizations. Those include Planned Parenthood in Yakima, the Children's Home Society of Washington in Walla Walla and the Vista Youth Center in Kennewick.
Executive Director for the Vista Youth Center says the money will help fund a program called SMYLE (Sexual Minority Youth Living Empowered.) He says the program will help LGBT youth express themselves and set life goals.
"The sad part is, is that lesbian, gay, bi, trans youth commit suicide at about four times the rate of most youth and about 26% of them get thrown out of their home so they are under a lot of pressure. So it's a peer support and goal setting program for youth," said Lee.
The Vista Group was awarded $3,500 for their SMYLE program. Planned parenthood received $4,000 and the Children's Home received $2,500.
Since 1987, the Pride Foundation has provided hundreds of LGBT organizations with over $8 million.
-- If you have a story idea email them to chris.holmstrom@kndu.com