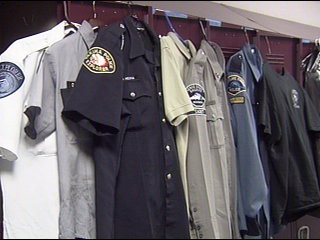 Sunnyside, WASH-- One hundred and seventy students from across Washington are camping out in the Lower Valley for the week. But it isn't fun and games. They're preparing to be the future of law enforcement.
Tiffany Kasold's wanted to be a police officer her entire life.
"I always used to sit there on the couch with my dad and watch cops. It guess it kinds grew from there. And It's become my passion.
She traveled from Kirkland a few weeks before her senior year in high school to be at the explorer camp. It's a first step toward her future in law enforcement.
Tiffany says she's excited to be a part of it... but the drills, discipline, and, well the instructors take some getting used to.
The goal of the program is to give the students a taste of what the police academy will be like. The students go from 6am to 10pm everyday with no downtime. Many of the students will take this training back to their hometowns where they're part of their local explorer programs.
Although Tiffany's planning to finish college before applying to the Police Academy her first hours at the explorer academy have made her certain this is the path for her.