Kennewick Man Launches Website to Help You Save Money
Posted:
Updated: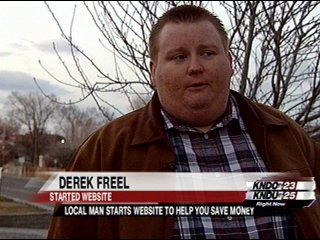 KENNEWICK, Wash.-- It seems like everyone is trying to save a buck or two these days. So, one Kennewick man just launched a new website to help people save money.
The website is cashstrappedfamily.com, and the creator the name is exactly what it means. It's aimed at families who don't have a lot of money. Creator Derek Freel got the idea when he was talking to his mom about ways to save and ways to get those ideas out and let people share them.
Freel says he comes from a family of small business owners and they've had a tough time in today's economy. They've learned how to save and want to teach others, and they are also open to new tips.
Freel says today is our generation's Great Depression with a twist. He explains, "We all need to band together to help. In the 30s we had different tent communities where people would come together and share food and make sure the kids were fed. We have online now. We have the internet. We can help, band together, and make sure people are getting taken care of and share stories."
He just launched the website and wants everyone's input and for you to share your stories and tips for saving money. On the website you can find everything from cheap recipes, coupon tips, how to save money at the grocery store, on your kids, and even on your pets.
Look at the toolbar above and click On-Air links for a link to the website.