Bird Dog Championships in Sunnyside
Posted:
Updated: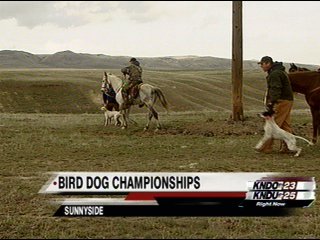 SUNNYSIDE, Wash. -- Some of the most well-trained dogs around are in Sunnyside, hunting for birds.
But in Bird Dog or Field Trial Competitions, no birds are shot, but the dogs are judged on how they hunt the birds.

Bird Dog Professional Sheldon Twere says, "Usually it's pretty clear who the top performers are." In other words, they must first find birds but they must also look good doing it.
Twere says, "They're hunting dogs that have been taken to the next level."
At the Pacific Coast Derby Championships in Sunnyside, over 60 dogs are looking around the 20,000 acres of the Anderson Ranch. The competition is the largest on the West Coast.

The dogs will run anywhere from 30 to 40 miles in a competition as their handlers pursue them on horseback. One judge also follows, carefully watching each dog.

Twere says, "You go from extremely warm, flat country to something like this. The dogs have to adjust. They have to adapt, sometimes without any preparation. They have to come out and perform."
Sheldon Twere has been in the sport for 40 years after leaving his job as a college professor. He says, "It's a different kind of lifestyle. You live with the animals and you see a lot of the country. It's a very outdoor life. It's very different from teaching class indoors."
A championship can bring a dog owner anywhere from $2,000 to $4,000 but those involved must have a love for what they are doing.

For three weeks, dogs will fly up and down the hills at the Anderson Ranch and hopefully, they will back again next year.