Web site Will Map Out Yakima Crime
Posted:
Updated: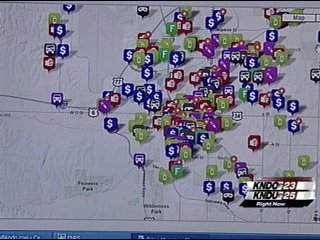 YAKIMA--What's working in Yakima to fight crime?
In the near future, it'll be new high-tech software that lets both police and regular people identify crime trends and hot spots.
Cesar Abreu is the Yakima Police Department's new crime analyst.
He's pushing for some new software and a website, www.crimemapping.com. He says will make his job a lot easier.
The site plots out where and when crimes occur.
Since Yakima doesn't have the software yet, we used Lincoln, Neb. as our sample city.
The Lincoln Police Department has used versions of the site since 2000. LPD Chief Tom Casady says it helps the department identify crime trends.
"So much is going on that no one person is familiar with [everything]," Casady said. "When you're investigating a couple hundred incidents a day, it's beyond anyone's capability to make these connections and software can really help."
The site's biggest benefit may be to the public. People can sign up for the site and see what's happening in their neighborhood. When a crime's committed, the site sends out an e-mail alert.
Abreu thinks it provides a more anonymous way for people to report crimes.
"They're afraid to come to the police station," Abreu said. "At least they can go to the website and they can see exactly what's talking place."
Chief Casady personally uses the alert service.
He said his department gets a lot of feedback from people who might not have realized how much activity goes on where they live.
"They're a little bit better equipped to protect themselves and their property from things like vandalism or burglary or other kinds of crimes."
The Yakima Police Department is currently finalizing the purchase of all the software. They hope to have the site, www.crimemapping.com, up and running in the next 90 days.