More Tanning Salons in the Tri-Cities than Starbucks and McDonalds
Posted:
Updated: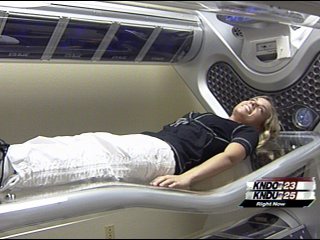 TRI-CITIES, Wash-- A new study says in most major cities there are more tanning salons than two businesses known for being everywhere, Starbucks and McDonalds.

KNDU pulled out the phone book and found that there are at least ten tanning salons in Kennewick, eight in Richland, and 3 in Pasco. That's more than 20 in the Tri-Cities, and we do fit into that study because there are more tanning salons than Starbucks or McDonalds combined.

It's a multi-billion dollar industry, tanning, not in the sun but in a bed and some Tri-City tanning salons can see up to 200 customers on a busy day.
Getting that tan is not cheap. Golden Palm Tanning Salon's most popular lotion costs $101 and prices for tanning packages range from $40 to almost $300, but is it safe?
"I haven't really thought that far ahead, actually my mom yells at me every day and tells me I need to stop tanning but it makes me feel good now, so I'm not to worried about," said Katie Conrad, who works at Golden Palm.
"If you're tanning with a lotion and you're tanning without burning, then the skin doesn't age nearly as much as people would think it does," said Tanisa Vilchez, manager at Golden Palm.
KNDU heard a different story at the Tri-Cities Cancer Center, where they say research has shown that people 35 or younger who regularly use tanning beds are eight times as likely to get melanoma and even occasional use triples your chances of getting melanoma.
"They may for now look prettier but in the long term, I think they're going to have more skin issues and that could lead to melanoma or a death sentence," said Cindy Miller, R.N. at Tri-Cities Cancer Center.
The downturn in the economy has not affected Golden Palm' sales, because with or without risk they say business is always booming.
"One of the owners actually had skin cancer and she continues to tan and it hasn't caused anymore problems," said Vilchez.

The study that found that most cities have more tanning salons than Starbucks and McDonalds came out of San Diego State University.