Pickard Named Western Conference Goalie of Year
Posted:
Updated: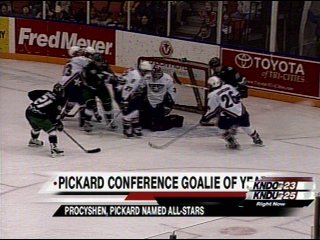 KENNEWICK, WA - The Tri-City Americans are proud to announce that the Western Hockey League has selected Chet Pickard as the Western Conference's Goaltender of the Year. It marks the second straight season that the Pickard has won the honor.
Appearing in 50 games for Tri-City this season, Pickard amassed a 35-12-0-3 record while pacing the Americans to their second-straight U.S. Division crown. Pickard finished inside the League's top-5 in goals against average (2.28, 5th), save percentage (0.921, 2nd), wins (35, 4th) and shutouts (6, t-3rd). Pickard, who was also named a first-team all-star earlier today, is trying to become the first goaltender to win consecutive WHL Goaltender of the Year honors since Calgary's Mike Vernon did it in 1981-82 and 1982-83. If selected, Pickard would become just the fourth winner in the League's history to have been awarded the honor twice in their careers.
The WHL Player of the Year finalists will be announced on Wednesday, April 15th, 2009. The winners of these awards, along with the WHL Player of the Year, will be announced at the 2008-09 WHL Awards Luncheon in Edmonton, Alberta on Wednesday, April 29th, 2009.
The WHL will announce the Eastern Conference awards finalists at the 2009 Playoff press conference in Saskatoon, Saskatchewan on Thursday, March 19th.
WHL WESTERN CONFERENCE AWARD FINALISTS

WHL Rookie of the Year, Jim Piggott Memorial Trophy
Brett Connolly (Prince George, BC), Prince George Cougars
WHL Goaltender of the Year, Del Wilson Trophy
Chet Pickard (Winnipeg, MB), Tri-City Americans
WHL Defenseman of the Year, Bill Hunter Memorial Trophy
Jonathon Blum (Rancho Santa Margarita, CA) Vancouver, BC
WHL Most Sportsmanlike Player of the Year, Brad Hornung Trophy
Colin Long (Santa Ana, CA), Kelowna Rockets
WHL Scholastic Player of the Year, Daryl K. (Doc) Seaman Trophy
Tyler Maxwell (Manhattan Beach, CA) Everett Silvertips
WHL Coach of the Year, Dunc McCallum Memorial Trophy
Don Hay, Vancouver Giants
WHL Executive of the Year, Lloyd Saunders Memorial Trophy
Scott Bonner, Vancouver Giants
WHL Regular Season Champions, Scotty Munro Memorial Trophy
Calgary Hitmen
GP - 72 W - 59, L - 9, OTL - 3, SL - 1, Pts - 122
WHL Top Scorer - Bob Clarke Trophy
Casey Pierro-Zabotel - (Kamloops, BC) Vancouver Giants
GP - 72, G - 36, A - 79, Pts - 115, PIM - 52