House Fire Claims One Life, Leaves Another in Critical Condition
Posted:
Updated: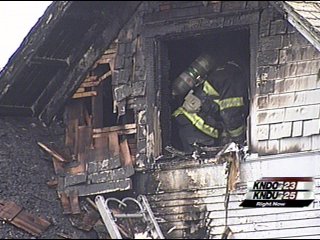 YAKIMA, Wash-- A man risks his own life in an effort to rescue a friend from a blazing house fire. His heroic attempts however, were thwarted. Family and friends watched as firefighters pulled the victims from the burning home.
Paramedics struggle to breath life back into the second man they pulled from a burning home on South Naches. Aaron Wilscy told detectives everything he did to try and save his friend.
"If I could give my life for him than it was worth it, you know," said Wilscy.
Moments earlier Wilscy saw smoke billowing from the home. He tried to alert the people inside.
"I kicked the window in started screaming to people, I couldn't see anything it was so black," said Wilscy.
The fire was taking over the second floor of the home. Wilscy knew people were still trapped. He climbed on the roof and saw his friend Paris Reed laying in bed.
When firefighters arrived smoke and flames were pouring out the windows, smoke could be scene from across town. They called in extra crews.
Despite efforts Paris Reed died in-route to Harborview Medical Center. A second victim is in critical condition Harborview.
Wilscy said his friend Paris was trying to turn his life around. Paris was 20-years-old and living for his daughter. His friend recalls the ominous sound of a raging house fire.
"All I could hear was the fire, fire makes a noise," said Wilscy.
"And also the people down below heard popping sound and noise upstairs so I don't believe we had any working smoke detectors," said Ron Melcher, deputy fire marshal, YFD.
Investigators are still trying to work out the details of this mornings devastating fire. Several people escaped the home, but it's unsure how many lived there.
Now family and friends mourn the loss of a young man trying to get back on his feet.