Students Get Inside Look at PNNL Jobs
Posted:
Updated: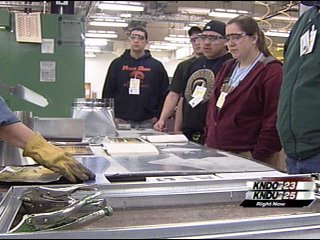 RICHLAND, Wash-- It's an inside look and a hands-on approach to a hands-on job.
"We've been through the machinists, welders, we've done mill rights, carpenters," says Shelly Lane.
Kamiakin senior Shelly Lane is one of roughly thirty students at Pacific Northwest Labroatory's first ever craft career day. Lane, like the other students, has an idea about what field she wants to one day work in; for her, it's construction. But it's the getting there, and the reality of the job, that up until now was a mystery.
"I already know what I want to do, but it's really interesting to see different aspects of maybe people I'm going to be working with in the future."
Enter networking 101. We'll call it their first college lesson. It's the student's chance to move away from theory, and into practice.
"Reading the book is just really you do it and you're confused, and like 'oh well, I'm done here,' says Ozzy Hermosillo. "You come over here, actually do it, see it, you actually get a feel for it."
Prosser senior Ozzy Hermosillo says today was a chance to build a foundation for his future.
"I came here to really look at what my options are," he explains. "I'd like to become a construction electrician."
The event coordinator says it's not about offering students a job, but offering them a little guidance.
"We hope that it will help the students walk away with more information so they make a decision for what they want to do after high school," says Mike Moran.
That's something every student can learn from.