Wapato Neighborhood Deals With Shootings
Posted:
Updated: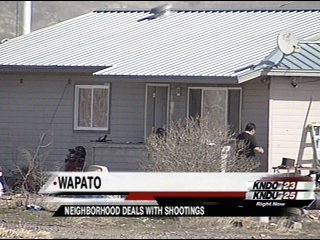 WAPATO--Neighbors are concerned as questions over Wednesday's double shooting in Wapato continue to go unanswered.
Authorities are still investigating the shooting on Yakama Nation tribal land that's left two young men in critical condition.
Just two days after the young men were shot, people living on Osborne Drive are still nervous, most were unwilling to talk to KNDO on camera.
The scene gives some answers. One man says the victim's car drove through his yard, leaving tire tracks in the grass. His door and sidewalk are still stained from when the victims tried to get help.
Jose lives at the end of Osborne Drive and wasn't home when this happened, but several of his children were only a few houses away.
"I think it's more ignorance than scary," Jose (who didn't want to share his last name) said. "We have kids that walk and play up and down this cul-de-sac and up this block."
Neighbors told me they'd heard four men tried to steal a car stereo. When the car's owner came out, at least one man showed him a gun. Neighbors say the owner pulled out a shotgun, shot at the would-be thieves, and drove off.
The FBI and tribal police are leading the investigation.
An FBI spokeswoman couldn't confirm or deny the story, and the Yakama Tribal Council won't comment on the incident until Monday.
Wapato Police Department officers were on-scene, but they've taken a back seat.
"That's their jurisdiction," Sgt. Larry Ehrhardt said. "They're in control of that jurisdiction."
Even though the crimes took place in Wapato, Erhardt said they don't get to know everything that happens.
"What we need to know is about the security of the area," he said. "We usually get that."
Jose doesn't think Osborne Drive is secure. He'd like those causing trouble to put themselves in his shoes.
"They need to really analyze the situation and think about, what if it was my kid?" Jose said. "What if my kid got shot, how would I feel?"
Some people living on this block said they'd like to see the Yakama Nation install street lights. They think that would make living in this neighborhood a lot safer.
While tribal police and the FBI aren't confirming or denying any details about the shooting yet, Wapato police said there are suspects. However, no names are being released at this time.