Tri-Cities Company Gets A Business Makeover
Posted:
Updated: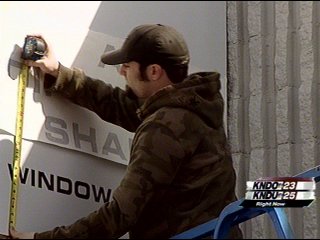 KENNEWICK, Wash-- One Tri-Cities company is getting what the owner is calling an extreme business makeover.

The owner of "A Different Shade" tint shop in Kennewick said his building needed a face-lift. The company has been tinting home and car windows for the last ten years. They entered a contest and were picked out of a hat to get the prize of a lifetime.


For the husband and wife co-owners, running their small tinting business in Kennewick keeps them constantly busy, and they say organizing the shop has not been high on their priority list.
"We've been in business for almost ten years without warranty claims and every year just continues to get better and better," said Cedro Rodriguez, Owner "A Different Shade."
They entered a contest put on by their main product line, Solar Gard, their lucky number was drawn, and like that their business is getting a free makeover.
"When he called me and told me I was like you've got to be kidding me and I was so excited. I was jumping up and down and my kids were home and they were like what is going on, why are you so excited," said Tiffany Rodriguez, Owner "A Different Shade."

A Solar Gard team came all the way from San Diego to give them new branding signs, a showroom, a bathroom, and a paint job and paid for workers to cut wood and paint the outside.

"We had two rooms: a storage room and a showroom. We decided to knock down the wall and make one large showroom. This will help facilitate the template a little better," said Cedro.

It may not be an extreme home makeover, but the new renovations will make "A Different Shade" stand out from all the other different shops.

The Solar Gard team and owner of a different shade will be working hard all weekend. They're having a grand re-opening this Monday and KNDU along with their family and friends will be there to see the new and improved shop.