Historic Yakima County Buildings are Demolished
Posted:
Updated: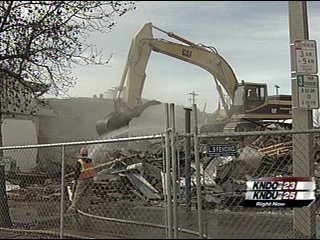 YAKIMA, Wash.- People gathered in downtown Yakima to witness pieces of Yakima's history being knocked down. The century-old buildings along A Street were torn down.
The crane started knocking down walls this morning, climbing over what used to be a piece of a history, buildings that stood in Yakima for over 100 years.
"I remember when I was in a restaurant on the corner there," said Tim Shaw, who lives in Yakima.
That corner was the last piece to go. From start to finish, people stood around watching as the buildings were torn down, taking pictures, as it fell apart piece by piece.
"It's a part of Yakima history or the old downtown," said Cindy Downing, who lives in Yakima County.
"It's too bad technology is that good in this day and age cause that's a beautiful building," said Shaw.
A beautiful building that some may miss and that some say should've been renovated as a part of downtown's beautification project.
"It's looking really beautiful down here but every one of them they could save, I wish they would save," said Shaw.
Others say the building was too old and that knocking it down just made sense.
"They can't be brought back up to code and they're not safe to be in, with regulations it doesn't make sense to spend that money it'd be millions of dollars to bring them up," said Downing.
Yakima County Commissioner say have plans to rebuild on this property sometime over the next 20 years.
"They should've had something planned and ready to go as soon as building was off the property," said Downing.
Commissioners say they're working on what will work best. Meanwhile, what's left of the building, and its history, will be picked up over the next few days.