Sunnyside High School Students Lead Drug Awareness Program
Posted:
Updated: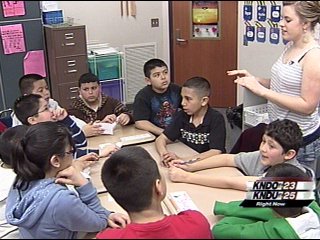 SUNNYSIDE, Wash-- Some Sunnyside High School students are trying to change the perception of drugs and alcohol. Monday they taught a fifth grade class at Chief Kamiakin Elementary.
"Well, the first thing I learned about 5th graders is that they were aware of drugs and alcohol. Like some of them knew a lot more than I did," said Ashley Bridges, senior.
But, the point isn't just knowing about drugs, it's teaching young people how to say no. Ashley and other high school leadership students are trying to change the perception of drugs and alcohol.
And these fifth grade students are getting the message. This is what fifth grader Angela Montes would say to someone offering her marijuana.
"No, it's really bad for you and why would yo do that it probably already wrecked your life already," she said.
The high school students create lessons and visit classrooms about once a week. Monday's topic, peer pressure.
"Come on take the cookie....don't you want the cookie?" asked Bridges.

The cookies represent drugs and each student has a role to play. The students are given index cards with instructions. One card says take a cookie, another says take one but don't eat it. It's all a set-up for discussion.

"We thought that fifth grade was the age where you're out of the DARE program and your right before middle school so it's the perfect time to hit them," said Bridges.
The perfect time to hit them, so when someone else hits-them-up with an offer of drugs or alcohol, they'll know what to do.