Ellensburg Leaders Fight Cuts to Washington Main Street Program
Posted:
Updated: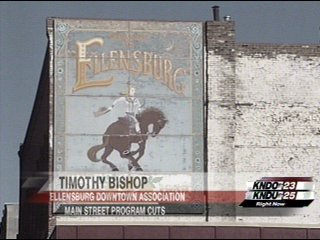 ELLENSBURG, Wash-- In an attempt to balance the state budget the governor's office is pinching penny's wherever it can. Some people are concerned there may be cuts to programs that have a high rate of investment return.
Downtown Ellensburg is a perfect example of how effective the Washington State Main Street program is.
"Locally the programs been very effective for us we ended 2008 with a net increase of 13 new businesses in our downtown," said Timothy Bishop, executive director, Ellensburg Downtown Association.
Downtown Ellensburg is one of 80 cities across Washington that benefits from the Main Street program. The program helps tarnished downtown's shine again. Don Hines is a local business man turning old building on 4th avenue into a cafe and arts venue. He's doing it with the help of the Main Street program.
"For every dollar they invest in the main street program we've been able at the local level to leverage that for $115 dollars from the private sector," said Bishop.
However, if this program is cut the state may be stepping over dollars to save dimes.
The state provides planning ideas and direction for local leaders. But, it's up to local people to provide the elbow grease needed to make downtown sparkle. For Hines the Main Street program has helped him navigate tricky building codes. Local people are happy to do the work.
"A guy from the film festival is actually hanging sheet rock for free. We had an artist stop by to donate labor. So it's been really amazing the community support we have," said Hines.
Bishop and other downtown association reps have been working to keep this program going. Last week he spoke with legislators in Olympia. Now he's waiting to see if the state will keep the program as is, he says a decision should be made this week.
Prosser and Historic Downtown Kennewick are two other cities that benefit from the Main Street program.