Scott Biglin To Become New Kamiakin Football Coach
Posted:
Updated: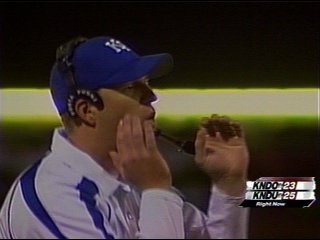 KENNEWICK, Wash. - Two years ago, Scott Biglin took an 0-10 Ki-Be football team and led them to the playoffs for the first time in 20 years. Now, he is moving up. Tuesday Biglin was chosen to replace Craig Beverlin as the new head coach at Kamiakin. The school board still has to approve the hire. That is considered a formality.
Biglin spent just two seasons at Ki-Be, and is just 28 years old. Prior to that, he was an assistant at Southridge High under his former coach Andy Troxel. He was a quarterback at Pasco High School and at Whitworth University in Spokane. At Whitworth, he was twice all-league and also named MVP.
This is a big jump up the coaching ladder, going from a 1A school to the 4A ranks.
"I'm definitely excited," he said. "It's a great opportunity for me. I had a great time at Ki-Be and learned a lot there, but my heart is at the 4A level and my heart is with Kamiakin right now. I'm excited to come aboard."
Biglin's Ki-Be teams were known for lots of passing and scoring. After a 9-3 season in 2007, he had a young team that went 4-6 in 2008. He'll keep the same style at his new job.
"I'm gonna bring an offensive flair to this team and we're gonna have a stout defense like we've had at the past here at Kamiakin. Hopefully it's gonna make a deadly combination."
Biglin also played briefly in the Evergreen Football League. Like Craig Beverlin before him, Biglin hopes to stay at Kamiakin for a long time.
"Kamiakin is a great place," he said. "I hope to send my kids there."