Both Yakima Hospitals Now Using On Campus MRI Machines
Posted:
Updated: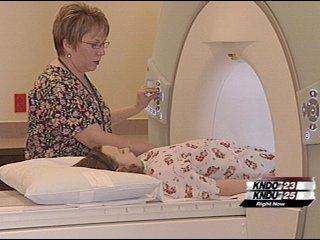 YAKIMA, Wash. - This week doctors at Yakima Valley Memorial Hospital began using a new MRI machine on their patients, joining Yakima Regional Medical and Cardiac Center in having in-house scanners.
Dr. David Stapanek is a radiologist with Memorial's Valley Imaging Partners.
"The convenience for the patient will be that they can have the scan done here in the hospital facility as opposed to having to be put on an ambulance and being transferred down to an outpatient setting," he said.
These MRIs are safer and the new machines will also make it more comfortable.
For Memorial, the most significant advancement is the software.
Dr. Gus Varnavas is a Neurosurgeon for Memorial. The hospital says they are going to continue studying the software in the new MRI.
"All MRIs are like digital cameras," said Varnavas. "They can be built and tuned to show you what you want to look at."
KNDO reporter Shawn Chitnis had the chance to get an MRI of his right knee. Most of his upper body was outside of the machine and his scan lasted about 20 minutes.
Paul Zeimantz is the lead MRI technologist and explained what showed up on the screen after the scan.
"You can see the soft tissues, this out here being fat, muscle, there's ligaments and tendons that show up, the bones show up very nice also," said Zeimantz. "But primarily we use MRI to image soft tissue."
Jim Benoit is the director of imaging services for Regional. Both he and officials at Memorial believe their individual advancements are a step forward for the area as a whole.
"It's a great benefit of both hospitals for patients now to be done in the hospital environment rather than have them travel by an ambulance to an outpatient facility so it's actually a great thing for the whole valley having in-house and in-hospital MRIs."