Yakima Fruit Growers are Facing Many Challenges
Posted:
Updated: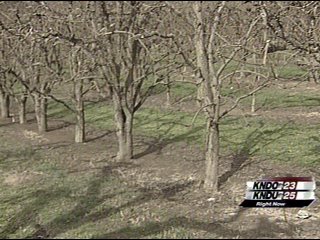 YAKIMA, Wash.- Yakima County is the 12th largest agricultural producer in the US but farmers across the area are feeling the pinch as they prepare their crops this year.
Farmers are in the frosting stage right now, waiting for their crops to bloom. With the cold weather, comes high maintenance with hefty price tags.
"With a different economy right now everything is more expensive," said Mark McAllister.
During the frost stage growers have to make sure their crops stay warm. This windmill pulls in warm air, keeping the crops at a higher temperature. When it gets too cold, growers have to use heaters to keep their fruits from freezing. Mark McAllister says last year he lit his heaters 13 times. At 3 dollars a gallon for gas McAllister says this is a high price to pay especially with this economy.
"It's going to make or break smaller growers, I see lots of ranches for sales, signs them they just can't make it," said McAllister.
"The pressures are increased input costs from gas, oils to package supplies to everything they do," said Keith Matthews, the Executive Director for Yakima Valley Growers and Shippers.
McAllister has been farming his whole life. He shared an important lesson.
"Trying to do a lot of my labor myself, keeping the overhead down," said McAllister.
He's also been fixing old equipment to save some money.
This year crops are two weeks behind schedule but McAllister says this won't be too hard, what will be, is the high supply and low demand for fruit.
"That drives prices down and it will be a very difficult time for individual family farmers over the next six months because they simply won't get back nearly enough money to do what they do," said Matthews.
Meanwhile growers can just continue to maintain their crops and hope for a profitable year.