Selah Community Stands Up for High School Principal Joe Jones
Posted:
Updated: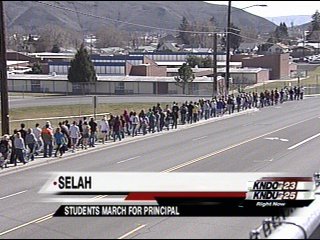 YAKIMA, Wash.- Selah students, staff and community members speak up for High School Principal Joe Jones. Jones resigned after the Selah Superintendent Dr. Debra Howard approached him about his leadership skills.
They're asking school board members to reconsider his sudden resignation.
Concerned parents met in Selah Friday afternoon, explaining how Principal Joe Jones has changed the school for the better.
"Impeccable as a leader, he does what he says and says what he does," said Kari Oppliger, a parent.
Students feel that Jones goes above and beyond to reach out to the student body.
"He's been a great guy to all of us, he's actually like he gets to know each individual at the school," said Lauren Carey, a Selah student.
Hundreds of people attended Thursday's board meeting, asking board members to not let Jones leave. Today, they echoed the same message, that Jones has made a difference in their children's lives.
"Joe Jones does that every day, he is the difference that kids stay in school," said Brian Harris, a parent.
"His integrity, what's he's done for our school, he's elevated everything," said Chuck Zeutenhorst, a parent.
Joe Jones said his resignation came after a discussion with Selah Superintendent Dr. Debra Howard.
"It really came down to an agreement that dr. Howard and I have different leadership styles and very different philosophies," said Principal Joe Jones.
Parents say they're not giving up. Without Jones, parents say Selah high school will not be the same.
"We would definitely take several steps backwards," said Oppliger.
Students, parents and community members say they will continue to support Principal Jones and hope he will stay. Jones says he is open to reconsidering his resignation but it all depends on how things go at the next board meeting.