Fever Get Burned by Boise, 48-15
Posted:
Updated: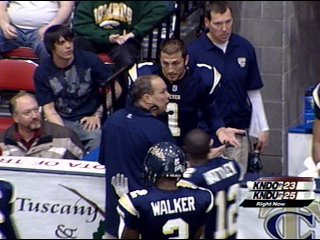 Kennewick, WA -- Tri-Cities (0-2) dropped their 2009 Home Opener to the Boise Burn (1-0) by the final score of 15-48.
Through the first quarter, the Burn took a comfortable lead of 9-0 with a 3-yard touchdown catch by WR Flowers and a 30-yard field goal by K Aguilar.
The Fever looked to climb back into the game with back to back scores; 20-yard field goal by K Braunstein (3-4 FG)and an 8-yard touchdown catch by WR McElrath (6 rec. for 46-yards; 1 TD) from QB Ayoob (19-43 for 164-yards; 1 TD) bringing the score to 9-16. The Burn quickly put a stop to that with a pair of interceptions and 20 unanswered points before half.
With 1.3 seconds left on the clock before half, Braunstein kicked a Fever Record 45-yard field goal.
The second half was a much lower scoring affair with one touchdown by Boise each quarter and one more field goal added by Braunstein to bring his total to three field goals.
On a high note, not only did Braunstein break the record for longest Fever field goal, he also left his mark with being the first kicker to kick multiple field goals in a game and set the Fever single season and Fever career marks with four in only two games.
Fever Head Coach Richard Davis said, "I've never, ever taken a whipping like this and so, I can't draw from any past experiences and tell you what I am going to do because I don't know what I am going to do.
Fever Quarterback Joe Ayoob said, "It's disappointing. We wanted to win this game for the fans and for ourselves and we didn't get that done. We feel bad about it but we have a bye week and then we have 14 more games to go. So, we just have to put it behind us and get ready for the next one."
Score By Quarters 1 2 3 4 Score
Boise Burn 9 27 6 6 48
Tri-Cites Fever 0 12 3 0 15
Leaders:
PASSING: AYOOB (TRI) 19-43-164-1; DAVILA (BOI) 14-25-193-4
RECEIVING: McElrath (TRI) 6-42-1; ALLEN (BOI) 6-88-2
JLS Ironman: ()
Defensive Player of the Game: Levi Madarieta (BOI)
Offensive Player of the Game: Casey Allen (BOI)
Cutters Catch of the Game:
Attendance: 3,610