Toppenish Fuel Theft Ring Busted
Posted:
Updated: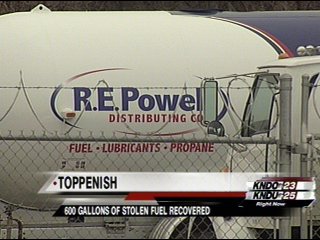 TOPPENISH--Regular thefts of a Toppenish fuel distributor may finally be over, after Yakima Sheriff's Deputies say the thieves get too careless.
The Sheriff's Office says thieves stole more than $40,000 worth of fuel from R.E. Powell Distributors on Highway 97 in the past year.
YSO said the thieves cut a hole in the fence around the fuel tanks, then siphoned out almost 600 gallons of diesel fuel on Thursday night.
An R.E. Powell employee told KNDO the distributor's been getting robbed about twice a month since he started working there two years ago, but this time the thieves took more than their tanks could hold.
"Their stupidity [got them caught], really," Sgt. Bill Splawn, Yakima Sheriff's Office, said. "They left a trail of diesel fuel and tire tracks all the way back to their house."
YSO believes at least two men were running a fuel theft business out of their house on East McDonald Road. A neighbor told YSO a man was selling gas for a $1.50 per gallon last year when prices were much higher.
One man was arrested on Friday. He'll be charged with burglary and possession of stolen property. Police are still searching for the second suspect.
All the fuel stolen Thursday night was found at the house and returned to the distributorship.