Department of Agricultures Free Pesticide Removal Program
Posted:
Updated: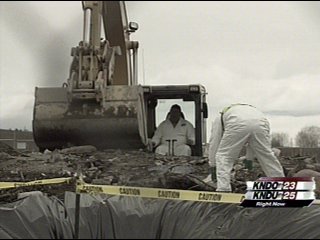 YAKIMA, Wash-- Yakima is the top county for agriculture in Washington State. That means lots of apples, cherries and hops. It also means plenty of pesticides, herbicides and other potentially hazardous materials.
"So it's been widely publicized not to bury pesticides which is a violation of state and federal laws," said Mike Louisell, public information officer for the Washington State Department of Agriculture.
While the contents of the illegal dump site in Grandview are still being tested, it has people thinking.
"I think it's clear that the investigation that's going on in the Grandview area has prompted increased public interest," said Louisell.
To help out farmers and business owners the department of agriculture is holding a free pesticide disposal on May 4th and 5th.
Last year 30 different people registered and nearly 30,000 pounds of chemicals were safely disposed.
"This year we've received phone calls up to 90 customers so that's a great increase," said Louisell.
Dan Newhouse is director for the Department of Agriculture. His family runs a farm near Sunnyside. He echoes the importance of properly disposing chemicals, he uses the free service.
"Farmers have always understood the necessity of maintaining and protecting and preserving the very resource that their livelihood depends on and that's their land," said Newhouse.
To learn more about the pesticide removal program go to: http://agr.wa.gov/News/2009/09-08.aspx
To sign up, call (360) 902-2056, (877) 301-4555 (toll free) or send an e-mail to wastepesticide@agr.wa.gov.
For household chemical disposal go to the Yakima County Web site: http://www.yakimacounty.us/publicservices/solidwaste/hazardous_waste.asp