Leaving Computers on Overnight Costs Billions in Energy
Posted:
Updated: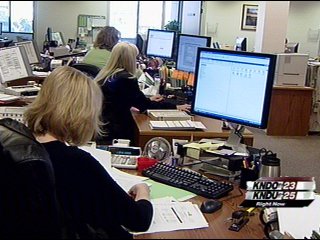 RICHLAND, Wash-- A national study finds that because many employees do not shut off their work computers at night billions of dollars worth of energy is wasted.

The KNDU news station is definitely not an exception to this study almost every computer is left on overnight, but we went to a bigger company, GESA and found out they are running into the same problem.
Computers, most companies can't function without them, but they could be adding wasted dollars onto the power bill. Did you know that almost $3 billion of unused power comes from employees who don't turn their computers off at night.

"I assumed staff were instructed to turn off their computers but I didn't know exactly how they were instructed, so I checked into that and found out that we don't actually instruct them one way or the other until now," said Christina Brown, President of GESA Credit Union.

Brown is going to make a policy that employees need to turn their computers off when they go home. One of the vice presidents, who work's late, says it's hard to tell whether they are off.
"Sometimes it's a little tricky because the screens will turn off, we have the screen monitors that will go off after 15 minutes of inactivity. It's not always very apparent which computers are on and which are off," said Jim Delyea, Vice President of GESA.
Some of the employees were told to just log off, because they do virus scans weekly, but they plan to make a schedule so that computers can be turned off almost every night. Brown still has to work on getting her kids to turn off the computer at home.
"The kids are still resistant, I keep telling them to turn that computer off and they walk away forgetting so I make them go back and turn it off," said Brown.