Yakima Pawnshops Like Ed and Moe's are Facing Closure
Posted:
Updated: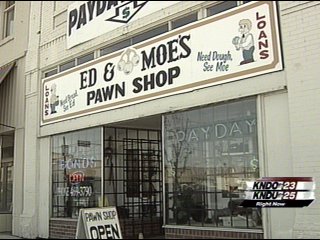 YAKIMA, Wash.- The senate is currently examining a bill that would increase a tax credit to help reduce taxes on loans. For pawnshops like Ed and Moe's in Yakima, this could be devastating.
Right now money is a hard thing to come by, which is why so many people have been stopping by Ed and Moe's pawnshop, to get a loan. If the senate's bill passes pawnshops like Ed and Moe's might have to shut down.
With the economy business has been picking up for pawnshops. For the obvious reason, people need money.
"They need money for gas so they're bringing in their items," said Jesus Rosales, an employee at Ed and Moe's.
Items like guns, guitars and jewelry are exchanged for cash. With the senate's proposed bill the interest rate for pawnshops would change, which means businesses would only be making one third of what they did before.
"Only seven cents a day of interest, it doesn't pencil out where we can stay in business," said Paul Plughoff, the owner of Ed and Moe's Pawnshop.
With over 18 years of business in Yakima, owner Paul Plughoff says shutting down is his worst fear.
"We put a lot of time into this place its not a big money make but it's a good income for my family," said Plughoff.
He isn't the only one who'd lose from this bill. Employee Jesus Rosales says he also has a family to feed.
"House payments, cars it's going to but hard without a job," said Rosales.
What about the customers who come here regularly or the people who've been turning to pawnshops for relief?
"It's hard because where are they going to go? There ain't going to be no place," said Rosales.
"Most of people doing loans are picking up, they're just getting through hard times and then redeeming their merchandise," said Plughoff.
Plughoff says he doesn't know for how much longer. For now employees will continue to give loans and sell merchandise, hoping the bill does not pass.