Ellensburg School District Deals with State Budget Shortfalls
Posted:
Updated: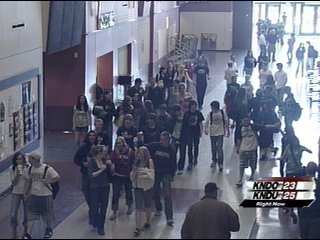 ELLENSBURG, Wash-- Ellensburg is one of the first school districts to announce how they will deal with state wide budget shortfalls. Teachers and other staff members, about 15 people, have been notified that their contract may not be renewed for next school year.
"It's tough times and we have to make tough choices. One of the things that I needed to do is essentially make unpopular decisions," said Dr. Paul Farris, superintendent, Ellensburg school district.
Superintendent Farris is playing the hand he was dealt by the proposed state budget. He said it looks like over a $1 million in budget cuts. To make up for this 15 people may not be offered a contract for next school year. However, the teachers association still remains hopeful.
"We hope we get all the teachers back and that the budget works, if not I expect what they're doing is over notifying right now as far as cuts," said Marco Bicchieri, Ellensburg Education Association.
Dr. Farris said 80-percent of the district's budget goes towards salaries and benefits.
Another by product of cuts, larger class sizes. "It will affect class size we did just a preliminary analysis," said Dr. Farris.
The cuts will be made across the district. We could see only about three to four more students in the elementary schools. Likely the high school will take the brunt of larger class sizes.
The teachers are working closely with the superintendent to make sure the staffing cuts go according to contract and have the least amount of impact on student learning. Then public is also invited to participate in a public meeting.
Dr. Farris, Superintendent, will share how the district will be impacted by the state funding shortfall that has been announced by the house and senate.

DATE: April 8, 2009
TIME: 6:30 - 7:30 P.M.
LOCATION: City Council Chambers, City Hall, 501 N. Anderson St.